Skunks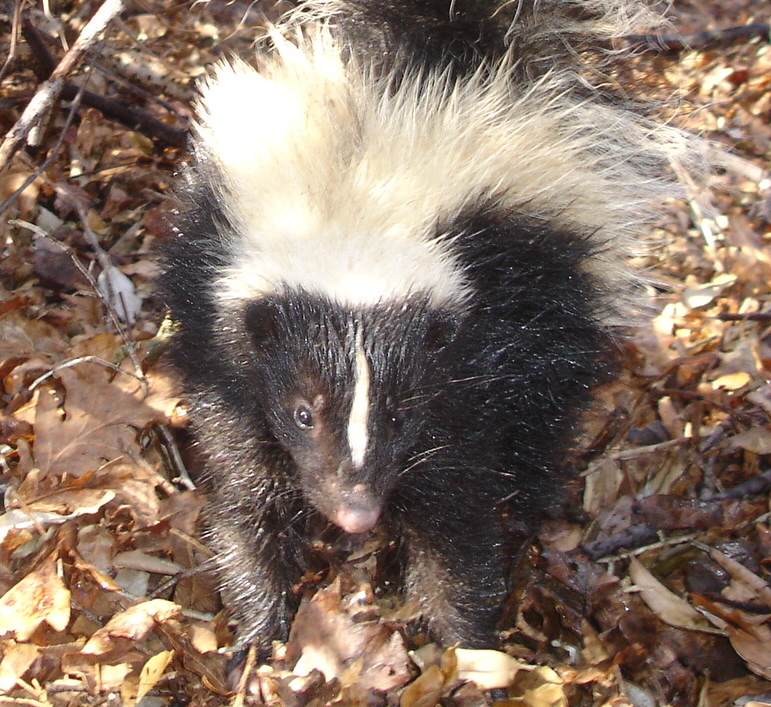 Skunk removal Hamilton. Reliable, effective affordable. Professional skunk removal services.
Experienced technicians offering humane skunk removal services in Hamilton and general area. Call: 289-201-9189
Our technicians will not only remove the animal, but also take the necessary steps to make sure the animals are out and your property is sealed. Burlington, Stoney Creek, Grimsby, Beamsville, Ancaster, Brantford.
Skunks become active in the Spring and remain active throughout the Summer months. In most cases the make their way to backyards in search of food. If you have identified a skunk problem it is important that you take the necessary steps and contact a wildlife control technician to perform control and removal
They actively begin hunting for food and mates and you may see skunks during the night in the springtime, as temperatures warm up. Avoid approaching them on your own as skunk spray and smell can be nearly impossible to take off. You must pay attention warning signs. If you encounter a skunk the animal seems to be stomping their feet, move away.
Skunks often search for shelter and food in and around residential areas. Skunks generally follow a diet of insects, rodents and wild fruit, but may shift their diet to include garden crops, rubbish and lawn insects. A permanent residence may be made by them across the home, should you not seek skunk removal.
Why is it best to Contact Professional Skunk Removal Services?
Professional skunk removal agents have the skill and expertise to deal with wildlife removal and sometimes it's best to leave a job up to the experts. There are easy Do-It-Yourself skunk removal traps and options in the market. But none of them guarantee an effective and complete removal of these mammals from your property. Some of these options are too expensive and not worth the cost as they do not do the basic job that they were made for.
Hiring professional removal experts is a more sensible option; as you can get a guarantee on the job and you do not have to risk getting into the battle arena yourself! You can either sit back and relax or be a spectator while these licensed technicians do the job for you.
When you hire removal agents, they come with a complete package that includes assessment of your property, tracking of the pest animals, removal of skunks, sealing the entry points and repairing damages that were caused as a result of the infestation and lastly, but most importantly, these removal tasks are guaranteed.
Skunk Control Hamilton
At Animal Control Hamilton, we offer some of the best skunk removal options at very affordable rates. Our technicians do a thorough assessment before providing you with the best and most effective trapping and removal option.
Skunks are invasive and are especially known to gnaw at the underside of your deck and live in the place below. Skunks easily fit in crawlspaces and it often gets difficult to reach in and get them out. Our technicians, however, can reach these pests in the most remote corners of your home and trap them, no matter how invasive or persistent the animal may be.
So, if you're up against a skunk invasion, call us at 289-201-9189 to book an inspection appointment today.
Skunks do not only pose a problem due to their unforgettable defensive spray. They can be dangerous as they can also carry rabies and other pathogens. Skunks, like raccoons are known to raid garbage cans while hunting for food and also dig holes in yards. You should contact a skunk removal professional as as soon as you spot a skunk on your property especially if it is during the day. This might be an indication that you might be dealing with a distressed or sick animal.
Our skunk removal technicians will close up holes, entrances and burrows to prevent skunks from returning. The best step you can take is to eliminate all food sources that may attract skunks. A skunk removal specialist will understand the most effective techniques on preventing a skunk problem and provide you with the solutions. Call us today if you too have a skunk problem. Call: 289-201-9189